Sly 2: One of the best video games out there. Period.
It didn't take us long to get to the next heist, huh? My next game review will be a special one because it will highlight a video game that, in my personal opinion, has got to rank as one of the best games that I have ever played. It sometimes takes a lot for me to say that about any video game, but Sly 2: Band of Thieves simply blew me away with how consistent it was in the storyline, the gameplay mechanics, the sound effects and voice acting, and the overall enjoyable gaming experience. Not many games will catch gamers in this way, but my review will describe just how things seemed to click in this cleverly made sequel to the Master Thief's adventures with his merry gang.
Backstory:
Allow me to provide some backstory before I jump into the review. The day was August 19, 2009 and I took a trip on a bus with a group of local baseball fans. We went down to Jackson, Tennessee to see a good friend of mine play a few games of baseball as he was just signed by Jackson's team to fill in for another baseball player who got injured. During my 3-day stay in Tennessee, I went to a mall to look at some video games in a store, and what did I find? Yep! This game! Sly 2 just stuck out in the front row of a clearance bin, and like the featured raccoon himself, I just had to snatch it and buy it. It turns out that I made a great investment.
Now let's get started with the review itself, which is sure to go into detail as to what really clicked.
Great detail went into the level designs
Controls - 20 out of 20 Points
While Sly Cooper and the Thievius Raccoonus (Sly 1) started the series, Sly 2: Band of Thieves was the first Sly game that I played, and I knew almost right away when I started playing this game that the controls were going to be smooth and accurately responsive. Everywhere I took the Cooper Gang they moved accordingly, and when I pressed buttons to perform actions, those actions were performed.
Unlike Sly 1, you have more than just Sly Cooper to control in Sly 2 as Bentley and Murray are available as playable characters. All 3 Cooper Gang members have their own skill sets and diverse sets of moves that will make them stand out in their own ways. This is a great way of showing how reliable Bentley and Murray are in the gang as opposed to giving Sly all the spotlight, and this was a very wise move made by Sucker Punch.
I will also point out that the binocucom feature in this game was given a great amount of significance. This further added to the stealthy environment of the Sly Cooper world. There were some missions in Sly 2 where you had to be accurate in taking binocucom photographs, and this allows the player to become more emotionally invested in what's going on, from the story to the gameplay. The controls of this game were top notch. No big flaws that I could see.
Graphics - 20 out of 20 Points
Sly 2 was catered to the Sony Playstation 2 engine, but there is absolutely nothing negative that I can take away from viewing the graphics here. For its time Sly 2 was simply remarkable to look at in the visual context. Players were given accurate depictions of their favorite characters, and the Saturday morning cartoonish flare that jumps out from this game only resulted in good things for me as I watched the Story Mode of Sly 2 progress.
The level designs of this game were well thought out and you could easily recognize the themes these levels took on. The architecture of the buildings that Sly and his friends encountered were visually impressive, containing just a touch of realism. I definitely believe that these graphics should be appreciated for what they are because it's not often that you get works of art like this from a video game.
Story - 16 out of 20 Points
Unfortunately, just like Sly 1, Sly 2 suffers from a particular theme in Episodes 4 and 5 that pulled down the experience for me a bit. This is once again my personal opinion, but I believe that the theme that was chosen for these 2 episodes just wasn't necessary and it threw me off.
Having said that, 6 out of the 8 episodes in Sly 2 were simply fantastic in the way that they told the story of the game. I must say that Sly 2's Story Mode has gotta be by far one of the best Story Modes any video game development team has ever created. It's nearly flawless in its execution. Sly 2's story keeps gamers on their toes, making them wonder what turns it will take. The story isn't complex, but it is thought-provoking, and it does make you think a little bit about why the villains did what they did to get to the top, and why the Clockwerk parts matter to them.
Game writing isn't easy to master, and I would know a little bit about this since I am constantly studying the art of game writing. Sucker Punch did their homework in the game writing for Sly 2 for the most part. I will say this about the twists that occur in Sly 2 without spoiling anything; You might not see them coming, but in one way you will connect the dots. This story had some very positive elements to take from and remember, which again makes me happy that I got this game.
Music - 20 out of 20 Points
If you loved the music of Sly 1, then you will surely love the music of Sly 2. In a sense the jazzy feel of the soundtracks in this game appears to be amplified and reinvented, refreshing the beats that you grew to love in the first game. I once again kept up with the flow of these soundtracks
because they truly are that memorable. These tunes are catchy and pleasing for the ears to listen to. Top notch.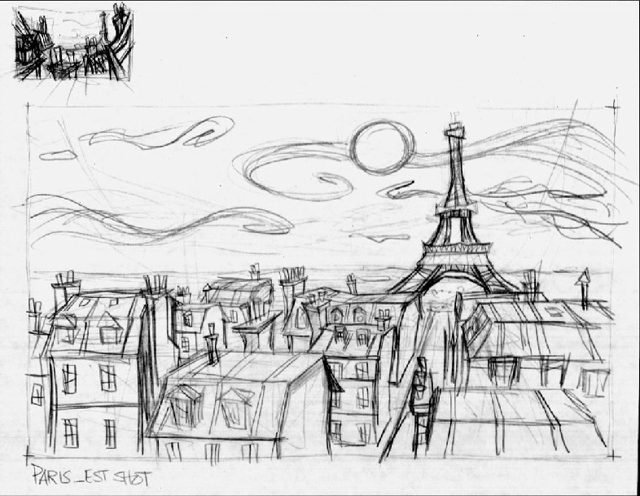 Concept Art of Sly 2
Replayability Factor - 20 out of 20 Points
Sly 2: Band of Thieves pretty much has infinite replay value in the sense that if you want to just pop this game in and go through the missions again, you can do that seamlessly without feeling burdened. You can play through Story Mode all over again without feeling that you will just get bored because of repetition. For example, if you were to go through Story Mode once and then went back to playing it again a week later, you would feel just as motivated to complete the jobs that are set before you, just as you felt previously.
I think what really sets Sly 2: Band of Thieves apart from Sly Cooper and the Thievius Raccoonus, Sly 3: Honor Among Thieves and Sly 4: Thieves In Time would have to be the sense of purpose that it establishes right off the bat. From the very beginning you are launched into action working a job and you are gradually led to different working parts of the story. In one sense you feel like more than just a Master Thief, but also a detective who's trying to solve a puzzle the deeper you get into the tangled web.
In comparison to Sly 2, I don't get as big of a purpose being established by the other Sly Cooper games. Sly 1 and Sly 4 both establish a general purpose while Sly 3 didn't quite hit the mark. You feel the big purpose of the whole story behind Sly 2 when you see it play out, and I believe that's just awesome.
You've done well, Sly Cooper!
Overall Score - 96 out of 100 Points (No Bonus Points)
This is the highest overall score that I have given a video game in a review here on this blog, and for good reason. Sly 2: Band of Thieves has served as one of many turning points in my time as a gamer, leaving a lasting impression on me that is right on par with another game I loved in Yoshi's Island. Compared to Sly 1, you have all the freedom in the world to move around and look for the Clue Bottles while deciding which job to tackle first. You are never really restricted in what you can do, and that's as big a plus as any for a game.
If you happen to be a
completionist
kind of gamer and you want to see something out the whole way, then this is absolutely your kind of game to play. Just when you think you can only play this game for a 1 hour sitting, you find yourself playing it for another 30 minutes or another full hour instead. Sly 2 carries that kind of influence.
Capping off this review, I once again have to note the stellar voice acting performances for all the characters. Some of the cutscenes in this game had me laughing for a good few minutes before I could regain my composure and resume playing. That's what it really is all about. Having a good time while you challenge yourself to complete tasks that you may think are too daunting for you to pull off, but at the same time you are comforted by the game's feel-good tone. That is Sly 2: Band of Thieves to me.