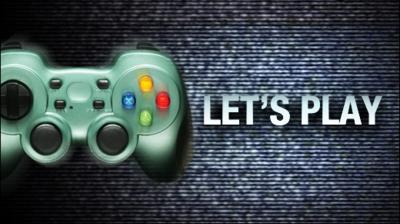 This form of entertainment gets a bad wrap from outsiders who just don't seem to understand it, but I am here to say that Let's Plays, videos that you see on YouTube that display a gamer's experience of a game, play a significant part in the way that gamers view video games in this day and age. Watching a Let's Play video wouldn't have been possible before websites like YouTube, Veoh, Vimeo and Dailymotion were created, but now that we have such technology available on the internet, it is possible to take in a viewing experience that is both unique and informative.
For some of us who have very little money, it's a treat to watch videos of games that we know we won't be able to buy at their initial prices in stores like Wal-Mart, Best Buy, GameStop and the like, because we get an insightful look as to what we could be experiencing ourselves if we were to play these games. Once these video games can be bought at reasonable prices, then we can dig in and buy these games, knowing that from out viewing experience of the game we know that we will get to enjoy playing these games.
As consumers of a product, we need to get some sort of idea of what we are going to buy before we put down the money for it. There were times in the past when all you had to go by was reading the back of the box of a video game and reading the descriptions of what the game was about. There would also be initial reviews written by some game review companies which stated that these games were "da bomb" and "can't miss". Little did we know back then that when we popped in these games and played them we would sometimes realize that these video games just weren't up to par to what we thought they were going to be. Ultimately, we would wind up feeling burned about buying the game in the first place because we didn't know what they were about beforehand.
You see, in this sense, this is where the true value of Let's Play videos comes into play, excuse the pun.
If I know that a Let's Play personality, no matter who it is, is enjoying a certain video game and it's the kind of game that I can see myself picking up and playing, then why wouldn't I ever consider buying that game at some point down the road? Why wouldn't I do that? Many of us gamers come up with our own imaginary shopping lists for what games we would like to buy, and we make plans for when we would like to get those games. If we are having trouble deciding if one game is worth buying, we will get a hint from Let's Play experiences as to which side the pendulum will swing.
I hope this is easy enough for corporate couch potatoes and political correctness junkies to understand, since they have recently gone above and beyond the call of duty to whine and moan about how supposedly harmful Let's Plays are to the Video Game Industry.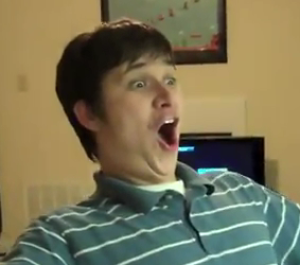 Chuggaaconroy, a.k.a. Emile Rosales-Birou
There is, of course, the entertainment side of Let's Plays which catches the most attention. One example to start with would be Chuggaaconroy's Let's Plays. If you are in need of hearing bad puns, listening to epic "NO!" responses and some occasional yelling, then you have met the right LPer. I won't forget to mention how informative Emile really is when he describes the gameplay of his LP projects. He will go into detail as to what is going on in the game, such as which mechanics perform certain functions, certain events that gamers need to pay attention to, etc. Don't let the picture above fool you, even if it makes you laugh. Emile will let you know which parts of a game are important.
ProtonJonSA, a.k.a. Jonathan Wheeler


The first LPer I got acquainted with on YouTube happened to be this guy. From the moment he posted gameplay footage of him getting super irritated and angry at Kaizo Mario, an immensely difficult Super Mario World ROM hack that would drive anyone crazy, ProtonJon has been known for his sarcastic sense of humor but also for his laid back style on commentary. He is far from being angry all the time in truth. Jon has contributed a lot to the gaming community as he has hosted live streaming events on Twitch.tv, posting straw polls to see what gaming audiences would like to see him play. Anyone who donates $5 to his Twitch efforts will be given an egg.
"You will give me an EGG!"
Sorry. I had to say that.
Like Emile, Jon will also go into great depth about the games he plays and he will inform viewers as to what is developing as he progresses in those games. Whether it's a helpful comment or constructive criticism, Jon's descriptions of games keeps viewers hooked on to what he's doing. Jon's really a nice guy.
NintendoCapriSun, a.k.a. Timothy Bishop




Then we have the LPer who I consider to be the funniest of the bunch, but who also happens to be the nicest guy on TheRunawayGuys LP team (which includes Jon and Emile). NintendoCapriSun also has a laid back style on commentary when he posts his LP projects and he doesn't do anything out of the ordinary. Timothy Bishop is into many vintage video games, and I personally find it to be a treat when he posts games that come from consoles like the NES. SNES, Sega Genesis and the like. His playthroughs of vintage games takes any viewers back to simpler times when we didn't have to worry about DLC or microtransactions.
Tim is the kind of LPer that lets you thoroughly observe what is going on before he comments on it, basically bringing you into the experience at your own pace. When he reacts to something unexpected happening, we can't help but laugh, knowing that it would catch us off guard too in a way similar to Tim's reactions.
Tim and I actually share a few things in common. #1, we are both fans of Yoshi. #2, we both like fart jokes and bathroom humor.
"You know? IN THE BATHROOM!"
#3, we both (possibly) could have Asperger's Syndrome. I just wanted throw that last part out there.
Stephen and Mal
In more recent times I have gotten used to watching the content that is produced by the husband and wife gaming duo of Stephen and Mallory Georg. StephenVlog is a YouTube channel where Stephen documents every day of his life in the vlog format, and StephenPlays is Stephen's Let's Play channel where he and Mal will play video games in the most interesting ways imaginable. Whether it's Mal kicking Stephen's butt in Mario Kart, or them just playing subtle RPG's like To The Moon, or even them hosting challenges in Super Smash Bros., you can be sure that they will entertain you and inform you at the same time.
Stephen's laughs are memorable by themselves as you can't help but laugh with him. The same goes for Mal when she reacts with giggles and laughs. The most random things can occur in Stephen's LP projects and I can only sit back and watch as the destruction unfolds. I also find it creative how Stephen manages to format and schedule some of his LP projects, and it's a testament to how hard he works.
JoshJepson, a.k.a. Josh Jepson
The list of LPers goes on and on and I could be writing this post all day, so I will cut it off here with honorable mentions. JoshJepson is another LPer I pay attention to as a YouTube viewer, and it's partly because of Josh's influence as an entertainer that inspired me to name one of my cats after him. Yes, I have a brown-gray tabby cat named Joshua. Josh's iconic lines such as
"It's not supposed to go at an angle!", "What the what the what the what?",
and his just as memorable laughs in reaction to something weird happening in the games he plays makes him stick out in my book. Josh can easily flip the switch from being serious and informative to being straight up hilarious in a matter of moments, probably faster than any other LPer I've watched, but that's just my opinion.
I have watched other LPers like MasaeAnela, LucahJin, SSoHPKC (Seamus, who has fallen off the map for whatever reason... Bad News Bears?), TheRealNinjaBoy, and PKSparkxx in my long LP viewing journey.
The main point I want to get across with this blog post is that these LP personalities are capable of inspiring people who need inspiration, such as myself, Steven Vitte. These guys are doing a good service, and it baffles me to see why an entertainment option like this goes under much scrutiny by those who just don't understand the appeal behind it. If anything, hardcore gamers, casual gamers and even outside media observers who aren't gamers should learn to appreciate these kinds of people more often for the work that they do. It's not as easy as what you think they make it out to be when making LP videos and content.