Now I mainly discuss topics related to video games that have no direct connections to me, but I think that I should be writing an article like this one because I feel that it is definitely important enough for me to discuss. Now you have read my articles and you know what my thoughts are on certain topics such as gaming genres, game mechanics, UI/UX Design, voice acting, creative game writing, etc. but here I want to dig a little bit into why I am here and why the Gaming Journalist Gazette blog exists. I have talked a little bit about the reasons why but not so much in depth, so really, now feels like the right time for me to tell a story or two about my journey into game development stuff.
I first began to get really serious about wanting to write for video games in 2008 and the setting is as much of a blank slate as you could make it. I started out really preliminary and basic in my writing style as I would write slowly and just map out the details of my first scripted story. In the distant past, like say the time of 1998-2002, I would doodle, sketch and write text in composition books as a younger kid and I would put in all sorts of things, like stick figures with block-like hats on, chicken scratch that at least looked funny, short poems that sounded silly, etc. I would format some of my composition book entries in the fashion of a cartoon TV show or a comic strip and I would try my best to progress the theme of the short visual story. My family members called it cute whenever I referred to these composition books as "anthologies". I was a younger kid back then after all.
I was always an imaginative person, always willing to create new things, experiment with things that hadn't been experimented on before and just making tweaks here and there. Ingenuity is a word that can describe me. I have always been an observant person who paid attention to detail no matter what it was. I would see animals like deers, horses and birds and I would pay attention to how they would act. It fascinated me because all animals are different from each other. I would see a frog jump about in a creek next to my apartment home and I would smile. Something so subtle like a frog jumping from one spot to another would rive my imagination.
From early 2002 to late 2004 I would call the San Francisco Bay Area home, and specifically near San Jose, and of course I had some fun while I lived there. I had the beautiful weather of Bay Area California and I lived in an area where I had plenty of options to do stuff. I ended up attending a Golden State Warriors basketball game, 2 San Jose Sharks hockey games, a San Jose Giants Single A baseball game, San Francisco Giants and Oakland Athletics baseball games, etc. and I enjoyed myself. However, something always felt missing in my life during this time. While I was finding myself in the Bay Area, at times I just couldn't help but think about what was going on back home in Ohio.
I was born in Columbus, Ohio, in the Ohio State University Hospital on August 16, 1989 and I have called Ohio my home for the majority of my life. I was raised in Ohio for the early childhood years of my life and I currently reside in Ohio. I know how to get around in Ohio and I am mainly familiar with my Ohioan surroundings. Bay Area California was a nice detour in my life and it certainly refreshed me, but in my mind and in my heart, I am an Ohioan Buckeye.
So how does this tie in to my love for video games? I'm getting to that checkpoint, to be sure. My love for video games spans numerous console generations, dating all the way back when I was a young sprout of about 5 years old, I think. I remember as far back as to when I was playing
Super Mario Bros. 3
on the Nintendo Entertainment System (NES) with my big sister and my official start as a gamer came when I got my hands on a Super Nintendo (SNES) console and here I would get the chance to play video games on my own.
Yoshi: "I am a professionally trained egg-thrower, a Battle Assassin at the Dinosaur Commando Power Plant!"
The first SNES game I played was
Super Mario World 2: Yoshi's Island
and that game almost immediately grabbed my imagination. It was simply the idea of a cute green dinosaur with a baby on its back throwing eggs at enemies and flutter jumping that got me hooked and Yoshi has been in my Top 5 of favorite video game characters ever since.Whenever I played Yoshi's Island as a little kid, I didn't want to stop playing. I would be stuck in the middle of a fortress or castle and I would ponder as to how I was going to get past certain obstacles. Some things caught me off guard and, yeah, Yoshi paid the price.
Once I was able to conquer Yoshi's challenges, I moved on to other games and my journey into video games would continue. I played other games and I would continue to learn how video games were structured. I developed a better idea of what video games were about and what they meant to gamers. Throughout the years, I have kept up to date on the trends in the Video Game Industry and I would continue to be amazed at how innovative and fascinating some of the best games actually were. The creativity of this platform grew on me very quickly since I was (and still am) creative at my core.
Throughout the twists and turns, my love for video games were always present and I eventually got to know just how important the business side of video games really were. I am a student of the game, so to speak, and I love digging into the history of various things, so researching the history of the Video Game Industry was no different. While living in the Bay Area, I was introduced to the likes of one TV channel that is no longer with us. In late 2002 I got acquainted with G4, a TV channel dedicated to video games. What a novel concept it was at the time since no other channel was committed to being loyal to just video game discussions.
G4 Rep.: "We were for gamers, but yeah, we moonwalked away from games and put on Cops reruns instead! Yippee!"
For the first few years of the channel's existence, G4 TV was actually a really fun place to be. It was a channel that caught your attention and allowed your imagination to wander even though you would see the end results of their shows. The shows that G4 put on in the early years felt special, as in you couldn't wait to tune in and see what some experts thought about certain games that just came out, or see what some guy was going to do with a cast of PC RPG characters in a comedic drama format, or even get the scoop on some cheat codes for your favorite games. I experienced some of G4's best programming back then and I was impressed by most of what they put out. Unfortunately, though, new leadership came in and completely destroyed the concept of a channel for video games, opting to air never ending reruns of Cops, Cheaters (not the same as Cheat), Magnum P.I., 1980's movies that nobody cared about, etc. instead.
Needless to say, as of late 2013-early 2014, G4 TV no longer exists, and honestly, good riddance.
Though I do have to say that one show on G4 TV stood out the most for me. That show was Icons and it documented the more serious and interesting topics about the Video Game Industry, involving the history of companies, peculiar events and the names that helped pioneer the business. There was one guy that Icons kept talking about and that guy was none other than
Nolan Bushnell
, one of the very first video game pioneers. Of course, I wanted to know more about Mr. Bushnell, so after conducting a bunch of research, I found out that Nolan was the creator of Pong, a now very old and classic arcade game that paved the way for other arcade games to be made. Nolan also led the charge for Atari back in the day when it came to promoting the brand of the Atari 2600.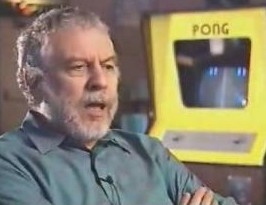 Nolan Bushnell
Every time I hear or read a story about Nolan Bushnell I can't help but realize how much passion, desire and drive it must take for a gaming pioneer like him to do what he does to this day. Nolan Bushnell is one example of a guy who sets up goals that he wants to reach and will make sure that those goals are addressed one way or the other. If there is an issue in gaming that he wants to tackle, there's a good chance that Nolan will get right on it. He also does general technology stuff as well like utilizing the GPS device and setting up unique security system grids and such. Many game developers look at Nolan Bushnell as their inspiration for wanting to get into the Video Game Industry and he's certainly one who inspired me as well.
In recent years because of personal issues in my life, my love for video games and for the Video Game Industry has had to take a backseat and this was a sad experience. Through both good and bad times, I had used video games as a relaxing point to get away from the monotonous nonsense that life can bring. Especially in the span of 2010-2013 things became incredibly tough for me on various platforms since I was transitioning away from certain things that were pulling me back in life and I was struggling to establish something that I wanted to be a part of.
In 2010 I had to let go of a routine that I had developed since the Summer of 2005. I started going to baseball games for my local baseball team, and for 3+ years I was an official blog correspondent for my local baseball team, the Chillicothe Paints, and I committed so much of my time writing articles for this baseball blog. I had a lot of fun with these blog articles early on. Towards the end of the 2010 baseball season, however, it became very super clear that I had no future as a baseball journalist. I loved the game of baseball and I still do today, but the fact was that I was writing all these blog articles without being paid a single dime. I wrote these baseball articles for free, and in a sense, yeah, the Chillicothe Paints baseball organization used me. I was basically a volunteer and when I did bring up the issue of pay for my articles they brushed me off. However, I speak highly of the Chillicothe Paints organization as I do find them to be a classy baseball organization. It was just a matter of me needing to move on.
The late 2000's were a very interesting time for me. I began to rekindle my interest in a video game series and bring that interest back out to the forefront. I became much more attached to the Sonic the Hedgehog franchise even though I had already known about Sonic very well, and I learned of how much this franchise spiraled out of control ever since the fall that was Sonic 06. It began with a simple internet search for one Sonic character, Miles "Tails" Prower. I was interested in knowing what was going on with Tails, so I naturally got hooked on to news about the Sonic franchise, and I have been kept up to date ever since. The Sonic franchise is a motivating factor as far as me being interested in entering the Video Game Industry for a variety of reasons.
Sly Cooper - One piece of my Motivation Puzzle
Even though gaming technology had already advanced past the Playstation 2, I became compelled to take a trip down Nostalgia Avenue, and from 2009 on it did manifest. I had the desire to play some PS2 games just for the sake of refreshing my interest in video games, to keep that interest afloat and to keep my love for innovation and creativity going. One game in particular was the clincher in keeping me in the game, so to speak. That one game was
Sly 2: Band of Thieves
. I eventually got to play other Sly Cooper material, but Sly 2 was the one that rejuvenated that part of my innovative spirit and reassured me that I still had it in me to play video games and play them pretty well. There were times when I experienced some "burnout" on video games and I felt like I needed to be away for a little bit, so when I put my focus on Sly 2 I became hooked once again, remembering the time when I got hooked on Yoshi's Island as a kid.
Kevin Miller
As was the case with Nolan Bushnell, I wanted to know more about the guy who provided the voice for Sly Cooper, so a few internet searches here and there brought me to some things involving
Kevin Miller
, such as the podcasts that he has with comedian Justin Worsham. Originally called the Second Funniest Podcast, this show features Justin and Kevin discussing topics related to video games as well as off the wall stuff to entertain fans abroad. I have listened to a few episodes of the Gamerland Podcast and I have been entertained by these discussions. Kevin has done a good job along with Justin in providing insightful views on gaming topics and you can tell by listening to an episode that they have fun doing these shows.
Link:
Gamerland Podcast
In one way Kevin Miller inspired me to come out of my shell when it comes to utilizing my voice. A few months ago I posted a blog entry talking about the local voice over recording session I attended, and I talked about how fun it was for me to give it my best try in seeing how my voice would turn out in the voice over format. I wanted to know for sure if my voice sounded clear enough, and thankfully it did according to those close to me. Not at all bad for my first ever try.
I was contemplating in 2013 whether or not I should consider doing any sort of voice over work no matter what it was for, and I eventually decided that there was no harm in me trying this out. I mean, what did I have to lose? This was surely a way for me to become more social and to present my enthusiasm for the video game business, a business that I love. It wasn't anything that Kevin directly did to inspire me, but rather it was because of his example that allowed me to admire the field of voice acting and to look at it more closely.
Steven Vitte - Where I Want To Be...
Now let's talk about the title of this article. Where I Want To Be... Clearly when you are in a position similar to mine, such as being in a No Man's Land area of the state of Ohio, your options will appear to be very limited in the beginning. My journey has many twists and turns, and most of which I really don't have the time to fit inside this giant article, but I will say that my journey has involved a great deal of heartbreak, "One Thing After Another" Syndrome, unnecessary distractions and moments where I just fell hard on the boxing ring mat.
Chillicothe, Ohio - A home I love, but a non-existent platform for creativity
I currently call the small city of Chillicothe, Ohio, a population of around 22,000 people, my home and although it has been my home for the majority of my life, it has always lacked the opportunities that many creative people seek when it comes to advancing their possible careers into doing something they really want to do. When I was a kid it didn't matter to me so much where I lived, but recent times have opened my eyes to the fact that Chillicothe just is what it is, a small "Bumpkinville" utopia that stifles any piece of creativity and rests on its lazy laurels. It is a stage for nearly 100 or so restaurants that most likely won't have long shelf lives to begin with, and the restaurants will just shuffle from one brand to the next. Commercial land in Chillicothe is poorly used in this sense as there could be room for something creative that people like aspiring writers could use as a platform to get noticed by companies in larger markets, but all such creative options get pushed aside in favor of the status quo.
I have tried to get the attention of the local Chillicothe government to spring into action and help establish a platform for someone like me, an aspiring writer, to perform on so that I can officially get some writing material published and send that material out to other people, but the tones of the responses I have received from my local government have not been kind at all. To be fair, they listened to me in our phone chats, but the sense of unwillingness to branch out into more creative territories was very present when I heard their responses. I was redirected twice and then forced to contact the visitor's bureau, and I did get some contact help, but it was nowhere near what I was intending to accomplish.
I have also tried to have one of my custom stories (scripts) get published by a comic book company, not a big name like DC or Marvel, but a still recognizable company, but the brick wall came again to block me from having my creativity be realized and observed by other people. I sent out a basic synopsis of a script to this comic book publisher and waited 1 month for a response. I called this company more than a few times and I only received the same guy who would take the company's calls, a guy who --I'm being real honest here-- did a really lousy job in cooperating with me. The guy who took the comic book pub's calls refused to give me a "Yes" or "No" answer to a simple question of mine;
Did your company review my synopsis yet?
He only danced around the bush with a discouraging tone, making me question the legitimacy of the Comic Book Industry as a whole.
Like most people, I have a job and the job I have mainly known has been in the field of Morning Stock. Yeah, I get up in the early morning and attend the "Hoot Owl" Shift, waking up at 4 AM and driving to work through all sorts of weird weather conditions like massive fog, heavy rainfall, blustery winds and such. I have worked for retail stores and I have provided the best customer service that I can possibly give. I have been going at the Morning Stock line of work for around 5 years now, and while I know that I am a hard worker who tries his best to help people find their products, I also know that there has been a void in my life that hasn't been filled in a long time.
I have my own goals in life and I know what my ultimate goal is. My ultimate goal does not involve staying in retail store Morning Stock for the rest of my life. After a while, pushing carts, breaking down palettes, stocking shelves and sweeping floors every day gets a bit monotonous and annoying, and unless one thinks about moving up in retail store ranks and working in another department, there's really nowhere else for one to go if he or she is intending to be more creative in life. I have looked around in stores and I have seen the various departments and I have seen the people who work in those departments, but every time I pause, my mind, heart and spirit always answer the same way. "This is not my final destination. This is not where I want to be."
I recently took a mini-trip and attended a meetup event and an office tour of an independent game developing company called
Multivarious Games
, and I can say without a doubt that it was the most fun that I have had in a long time. Being able to take in the experience of talking video games and game development with other people who shared my enthusiasm made such a big difference to me. I was amazed by the fact that I finally had the chance to participate in an event with people who were already established in game development and I got to listen to what they had to say. I returned to my place of birth, Columbus, Ohio, on my 25th birthday and I went to Dublin, Ohio to meet up with cool and helpful people. Speaking in basic terms, my experiences in Dublin opened my eyes significantly to the game development process and made me happy because I felt like some sort of confirmation came to me on this mini-trip.
Multivarious Games is a start-up independent game developer that will aim to provide interesting gaming content to the gaming community. Based in Dublin, northwest part of Columbus, MVG has steadily made progress in the last few years, showcasing projects like Dangerous and Hatch-It! Now Hatch-It has received support via Kickstarter and is continuing to receive support. Hatch-It! is a Puzzle Game where you have to direct a robot around obstacles and collect dinosaur eggs without running out of fuel. If you watch the demo video below you will find out what the game mechanics are and how the flow of gameplay is.
Fun. That's the simplest word to describe my time interacting with the crew of Multivarious Games in person. It was just fun for me to see what they did in the meetup event and what happened in their meeting (which, of course, I can't disclose because of a signed agreement) and that confirmation settled in during this time. I was pretty sure of it before I went to Dublin, but now as I write this article there is no ounce of doubt in my mind as to what I would like to be doing in the future. The joy that I felt inside me as I took in this experience made it clear. My mind, heart and spirit basically told me "Steven, this is where you want to be. This is where the next chapter of your life will take place. This is your destination."
Where I Want To Be... In The Video Game Industry
Back when it wasn't clear, I always had dreams of entering the Video Game Industry and being a part of a game development team in some capacity. Those dreams floated in my mind ever so often in a "Wouldn't it be cool?" sort of way, but it was hard for me to figure out just how I was going to find that bridge that would lead me to the doorsteps of the Video Game Industry. I love to write scripts and general materials and I have the drive to provide other content such as working in QA Game Testing, UI/UX Design and putting in voice acting on the side. All of that relates to game development and all of that catches my interest.
Today I look at the entire scope of the Video Game Industry and I definitely see more roots of my motivation for wanting to get in on the action. In the United States, states such as California, Washington, Texas, Florida, North Carolina and New York obviously have a strong grip on the game development scene, and while those areas are great for game development it does leave one area of the country open for more growth. In the Midwest, only Chicago, Illinois has received a great amount of attention in game development with Midway, but again, that leaves the door open for another Midwest game development market to emerge. Where could that market be?
Columbus, Ohio (in my opinion)
I believe the puzzle pieces fit in nicely with the prospects of Columbus, Ohio being that next rich game development market to emerge. I believe the geography on the game development scene makes sense and I believe that Columbus would serve as a great bridge from places like New York City or Raleigh, North Carolina to Chicago. In fact, some game designers who originally moved from Ohio to California to do work have considered moving back to the Buckeye state because of the rise in interest in game development in Ohio. The game development scene is always changing and we never really know what market will really pop up as the next area of intrigue.
The goals that I have when it comes to a career in the Video Game Industry include the following:
- Officially attend a gaming convention
- Contribute my writing to a game story
- Become a representative for the cause of Gaming and Autism Awareness
- Meet Nolan Bushnell
- Meet Kevin Miller
- Meet Takashi Iizuka and Sonic Team
- Have one official experience with voice acting
- Talk to game reviewing companies like IGN, GameInformer, Gamespot, etc.
- Go on a small tour through parts of the United States
- Meet my favorite Let's Play personalities (ProtonJon, Chuggaaconroy, NintendoCapriSun, StephenPlays, SSoHPKC, JoshJepson, etc.)
- Give back to the gaming community
One of the things I listed above will be talked about in another blog of mine, and it's another part that describes why I want to be in the Video Game Industry. For here, though, as a gamer, I have this strong desire to give back to the gaming community in general. I want to share my love and passion for video games with other gamers and I want to show various audiences that no matter what your situation, no matter what physical or mental condition you have, and no matter what kind of journey you have taken to get to this point, your dreams can come true.
My Morning Stock days in retail stores are only temporary and I plan on having them be temporary. My days of exclusively being in and near Chillicothe represent a chapter in my life that I honestly don't want to keep reading anymore. Picturing my life in a book, I don't want to read the same chapter over and over again. I want to make that transition into the next chapter of my life and I want to know what that next chapter has in store for me. Life has a funny way of leading you into many directions, and I guess that recently life's canvas has been made more colorful and clear for me.
To be continued in The Autistic Help...